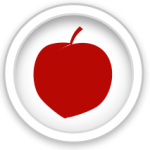 Taste: A soft, silky texture with flavors of strawberry, raspberry and plum, accompanied by some vegetal notes in cooler climates, which change to blackberry and black cherry, with additional chocolate and fruitcake flavors in hotter climates.
Body: Medium to full
Tannin: Low to medium
Acidity: Low to medium
Age: Most should be drunk young as only the finest wines need time to develop.
Description
Merlot (mer-LOW) is a grape of French origin thought to be related to Cabernet Franc. It is prized for its ability to produce deliciously soft, rich, velvet textured wines with low to medium acidity and tannin. What it lacks in complexity, it makes up for in sensuality, which explains its popularity worldwide.
In cooler climates, where tannin and acidity are a little higher, red fruit flavors of strawberry, raspberry, and plum dominate, accompanied by some vegetal notes. In hot climates it is more full bodied with black fruit flavors of blackberry and black cherry, and if very ripe it can develop additional flavours of chocolate and fruitcake.
Merlot is one of the primary grapes of Bordeaux where it is blended principally with Cabernet Sauvignon and Cabernet Franc to produce classic red Bordeaux (traditionally called Claret). It is particularly important on the right bank in Bordeaux (Saint-Émilion and Pomerol) where it is the main blending component and can even be produced as a pure varietal.
Internationally, Merlot has been a great success as it matures early and performs much better in cooler conditions than its main blending partner Cabernet Sauvignon. These characteristics combined with its ability to produce soft, rich, wines with low tannin and acidity has made it very popular with winemakers who can find a ready market for wines with such high consumer appeal.
Merlot is grown throughout the world with excellent examples made in the USA, Canada, Italy, New Zealand and Chile.
Never forget the wines you love by saving them to Pocket Wine. When you do, they will appear under the My Wines tab and also be automatically added to the relevant grape variety and display the appropriate Style icon.