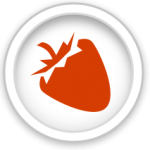 Taste: Aromas of red and black fruits with juicy flavors of raspberry, loganberry, blackcurrant, cherry, cedar and bell pepper. Often displays herbaceous qualities and mineral notes.
Body: Light to medium
Tannin: Low
Acidity: High
Age: Drink within a few years of release, but the finest wines age very well.
Description
Cabernet Franc (ka-ber-nay FRAHN) originated in southwest France and along with Sauvignon Blanc (another French variety), is one of the parents of Cabernet Sauvignon. However, in comparison to its robust well-built son, it is lighter, fresher, softer and fruitier.
It is an excellent quality grape, and despite its long history and tradition, it rarely gets the attention and recognition it deserves. However, there are signs that this has begun to change, as the potential of this classic grape has already captured the attention of many progressive winemakers and consumers alike. This is no surprise, because at their best Cabernet Franc wines are delightful and quite delicious.
Cabernet Franc is a cool climate grape with the great benefit of being an early ripener. This is a particularly important attribute in cooler regions, where bad weather conditions during the summer months can prevent many grape varieties achieving full ripeness. In these circumstances Cabernet Franc can be relied upon and may even salvage an otherwise poor vintage.
This is certainly the case in Bordeaux, the homeland of Cabernet Franc, where it is widely grown and blended with Cabernet Sauvignon and Merlot. In poor years when Cabernet Sauvignon fails to fully ripen in Bordeaux, Cabernet Franc plays a more important role in the famous red blends of the region. Its presence in some of these blends may be small in percentage terms, but its impact is significant and it is an essential component in the wines of many of the great Châteaux.
However, it is further north, in the cooler Loire Valley, where Cabernet Franc is at its best. Here it produces delicious light to medium bodied varietal wines with red and black fruit aromas and juicy flavors of raspberry, loganberries, blackcurrant, cherry, cedar and bell pepper. They also often display herbaceous qualities, as well as distinct mineral notes. Tannins are generally light and acidity high, making them suitable to be served slightly chilled.
The finest wines from the Loire show great elegance, balance and class, and are amongst the best wines made in France, even though they generally receive relatively little attention. But now this is beginning to change as cooler climate regions across the globe discover the qualities of Cabernet Franc and have set out, with some notable successes, to emulate the best wines from the Loire Valley.
The importance of Cabernet Franc can only increase, especially in cooler climate regions, and we have much to look forward to as it realises its international potential.
Never forget the wines you love by saving them to Pocket Wine. When you do, they will appear under the My Wines tab and also be automatically added to the relevant grape variety and display the appropriate Style icon.