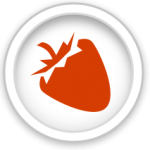 Taste: Aromas of red fruit, banana and a hint of spice, give way to prominent flavors of cherry, raspberry and strawberry.
Body: Light to medium
Tannin: Low
Acidity: Medium to high
Age: Most should be drunk while young and fruity, but the best wines can improve with age.
Description
Gamay (ga-MAY), or to give it its full French name Gamay Noir à Jus Blanc, is synonymous with the Beaujolais wine region, just north of Lyon in eastern France. It is believed to have arrived in the Beaujolais village of Gamay, from Germany, in the middle of the 14th century. More recently, DNA analysis has revealed that it is a cross between a Pinot Noir clone and an obscure grape called Gouais Blanc. This means, therefore, that Gamay is related to varieties such as Aligoté, Chardonnay, and Lemberger (Blaufränkisch).
In the vineyard, Gamay is vigorous, ripens early and thrives in the granite soils of Beaujolais. Tannins are low and acidity is naturally high in the grape. Flavor profiles are dominated by red fruits, which can be intensified during the wine making process through the technique of carbonic maceration (see the glossary for a full explanation). The wines are light to medium bodied (can occasionally be full), relatively low in alcohol and are typically light and delicate with a lovely refreshing quality.
Aromas of red fruit, banana, a hint of spice, and sometimes candy or bubblegum, give way to prominent red fruit flavors of cherry, raspberry and strawberry. The lightest wine is Beaujolais Nouveau, which is released in early November after the harvest and is made to be consumed young, when it is at its best. While this wine is something of a novelty, its quality is usually quite good.
The highest quality wines come from ten villages collectively known as Beaujolais Crus, as they each have been given "Cru" status and have their own individual appellations. The wines they make can be truly delicious and those of each village display a different character – anecdotally, Fleurie is known as the "Queen of Beaujolais" and Moulin-à-Vent as the "King of Beaujolais". Details of the ten Cru villages are included in Gamay's regional section in the app.
Often overlooked, the Beaujolais Crus are amongst the best wines France has to offer, which is saying something. Some of the Beaujolais Cru can improve with bottle age, but generally, Gamay wines should be consumed when young and fruity. The lightest wine, Beaujolais Nouveau, is best served slightly chilled and consumed as soon as possible after release.
Never forget the wines you love by saving them to Pocket Wine. When you do, they will appear under the My Wines tab and also be automatically added to the relevant grape variety and display the appropriate Style icon.